Gifts for the Absolute Coffee Nerd
This is not your average coffee gear list. I grew up around coffee, working at my uncle's coffee shop starting at age 14. Since then, I've gathered roughly 10 years of experience working in specialty coffee shops. Coffee is a personal and professional obsession of mine, and I've become truly fascinated with some of the technology in the marketplace today. Everything on this list I would use myself, and these gifts will absolutely improve the experience of any coffee lover you're shopping for. Some pieces carry incredible coffee lore and history, while others are just awesome.
Dominic Monaghan on Attending Fan Conventions
Looking for more gift ideas? Check out all of Gizmodo's 2023 gift guides.
The Fellow Stagg EKG Coffee Kettle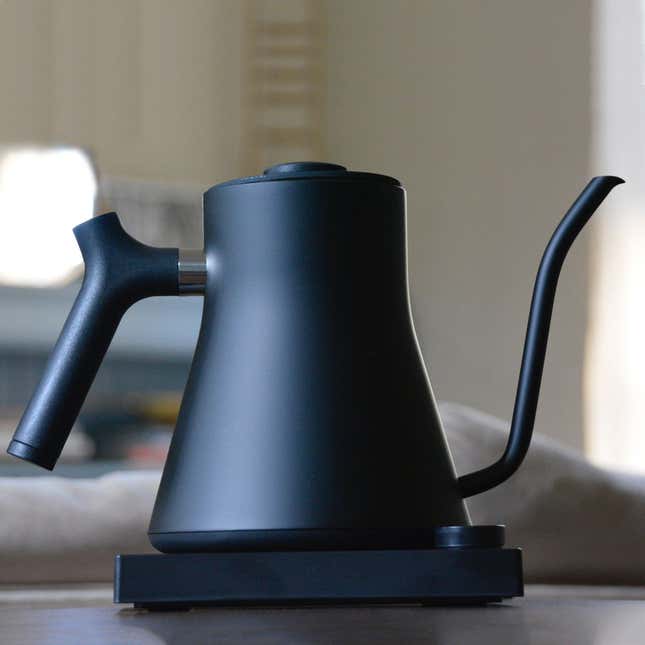 Why we like it: The best water makes the best coffee, and Fellow truly created the best water kettle on the market. Pourovers will never be the same after purchasing the Stagg. There is beauty in getting perfectly heated water for the incredibly analog practice of making pour-over coffee.
This kettle raises water to exactly the right temperature, so you'll never have to guess what "just below boiling" is ever again. It also holds your water at this temperature for an hour and has a built-in timer to measure how long your coffee brews. I'm recommending this model, instead of Fellow's Pro version, because I haven't been able to figure out why you need Wi-Fi updates for this thing, and their added features just seem to overcomplicate it.
The Stagg is as beautiful as it is practical, replacing the ugly stopwatch, and thermometer on your countertop with a modern, eye-catching design that will enhance your morning routine.
Price: $165 Where to buy: Fellow
West Bend Vintage Poppery Popcorn Maker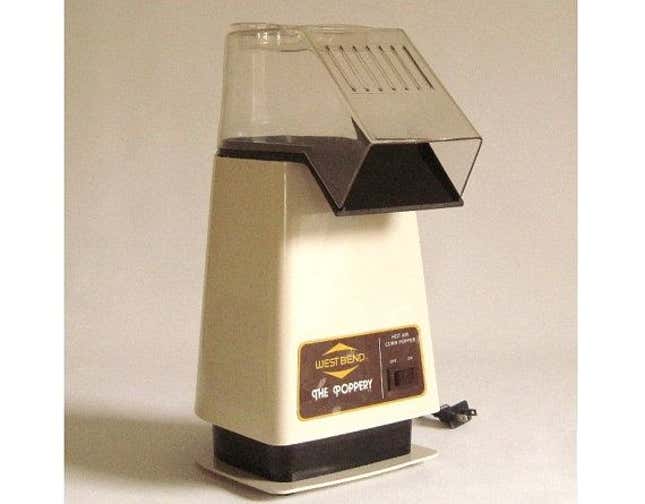 Why we like it: Yes, you can roast coffee in vintage popcorn poppers. It's an old trick used by coffee nerds to roast green coffee beans at home without paying top dollar for a roaster. For just about $60 bucks, you can play around with roasting your own green coffee beans. For a bag of those, I'd go to Sweet Maria's, an awesome green coffee purveyor who has been supplying home roasters for decades. Sweet Maria's also has some amazing roasting guides that can teach your coffee lover how to roast with a popcorn popper.
Roasting your own beans can be a fun, educational experience for the coffee fiend in your life. They can get beans from their favorite regions, and roast them exactly to their liking. Granted, popcorn popper roasting is not an exact science, but it's still a pretty cool experience for true fanatics.
Fair warning, roasting coffee does not smell like roasted coffee – the process actually smells a lot like freshly cut grass. Also, these poppers get extremely hot so please, exercise caution.
Price: Roughly $60 Where to buy: Ebay (they don't make these anymore)
The xBloom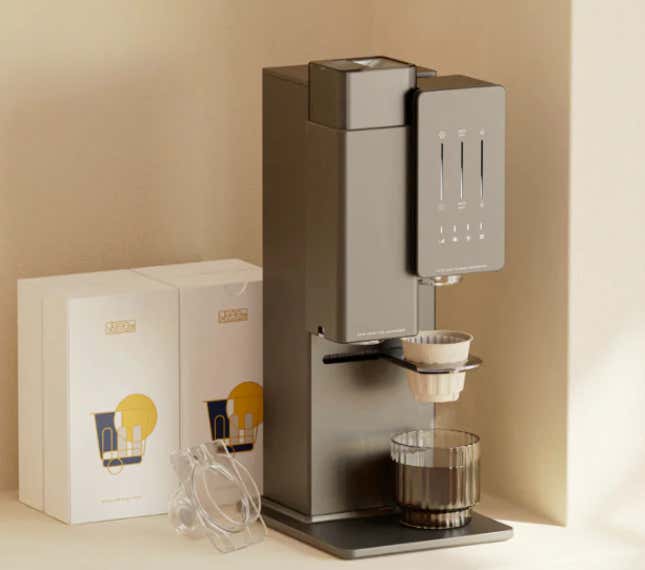 Why They Need It: This is the most advanced coffee machine I've ever seen.
The xBloom comes with xPods, which are air-tight containers that double as a brewing vessel and coffee filter, containing freshly roasted beans from some of the best coffee roasters in the world. Each xPod has an RFID tag, that when tapped against your xBloom machine, will automate your machine to specifications designated by the roasters themselves. The xBloom then customizes water temperature, ratio, grind size, and pouring pattern exactly to that specific coffee bean.
The xBloom is like having a world-class barista making your coffee every morning. It's a truly customized experience that would be hard to achieve otherwise for even the most advanced home coffee lovers. There's also an app with "Creative Mode" to personalize the settings of your machine even further. The xBloom is a unique, thoughtful, beautiful piece of technology that is sure to make any coffee lover swoon.
Price: $799 Where to buy: xBloom
Ozeri Pronto Digital Kitchen and Food Scale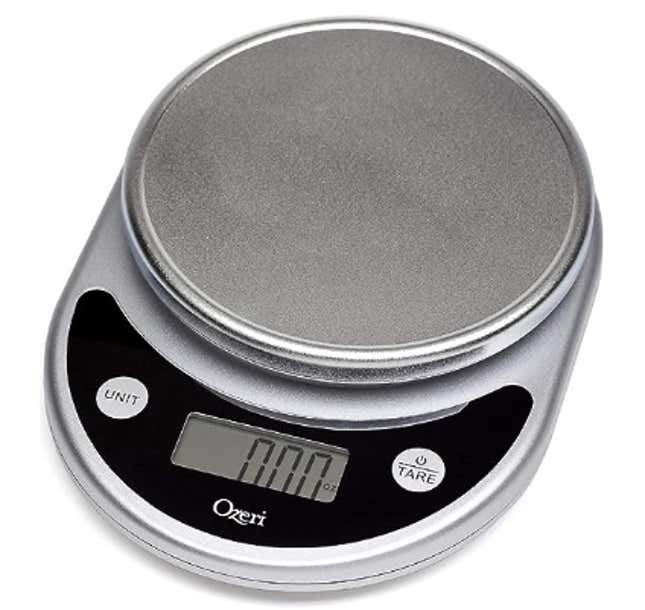 Why They Need it:
Look, this is not the flashiest product, but I think this is all you need.
In all the years I've been making coffee, I've seen this scale behind the counter at nearly every coffee shop I've worked at. Scales can get very expensive, with other options like The Pearl at $150, or the Hario V60 Drip Scale at $60. I was so tempted to pick one of these other options because their tech is cooler or it looks like an Apple product. But I've used all of these, and I think the Ozeri Pronto is the most reliable and least hassle, at a fraction of the price. It's a good scale, goddamnit!
For starters, the Ozeri takes two AAA batteries and it lasts for months. Other scales require charging them weekly, which frankly, is offensive to me and my outlets. This scale is also reliable and can be used for baking and cooking as well. There's no timer, but that's the beauty of the Ozeri Pronto: a simple scale that's just what you need. This is a great little bonus to throw in for the coffee lover in your life, they'll use it for years.
Price: $14.95 Where to buy: Amazon
Wilfa Performance Coffee Maker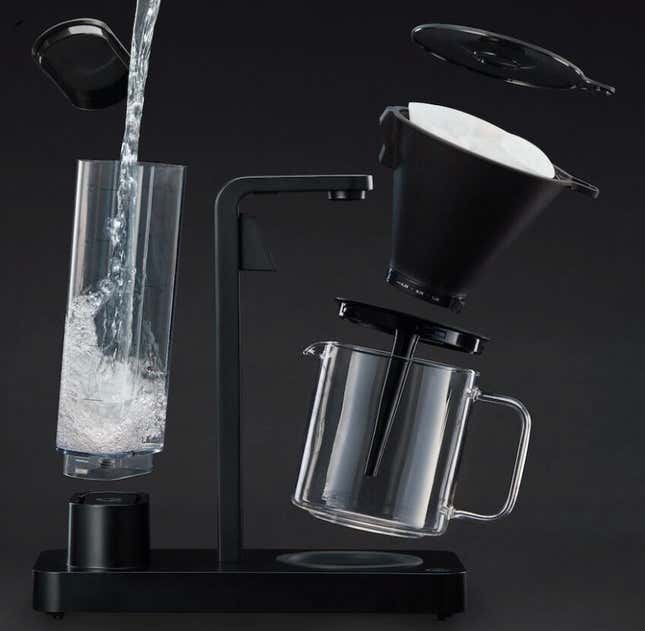 Why we like it: This coffee maker is a collaboration between a World Barista Champion and legendary Norwegian appliance maker Wilfa.
The first model, the Wilfa Precision, came out in 2014, and it was highly touted on coffee blogs and promoted with a strong marketing campaign. However, it did not sell well because of pump failure issues, causing Williams Sonoma to drop the product altogether. Wilfa, ashamed of its public failure, retreated from the US marketplace for six years.
The two-columned design is beautiful but requires significantly more pumping power than your average coffee maker. Water is pumped from the water reservoir through heated copper tubes in the base of the machine, up the arms, and then is sprayed over the grounds.
The Wilfa Performance came out in 2019 in Europe and fixed a lot of those old pump issues, and the result is a truly unique machine with a tattered past. The machine shows you how much water and coffee to use and allows users to mechanically control the flow rate. A heating reservoir below the pot keeps your brew at a perfect temperature.
After two years of European sales and incredible testing, Wilfa has finally re-entered the American marketplace. It's confident this is the machine to make Wilfa a household name in the U.S. Frankly, this is the most amazing coffee maker you can get for the price, combining Scandinavian design with world-class coffee tech, and it's worth every penny.
Price: $249 Where to buy: Ladera
The Chemex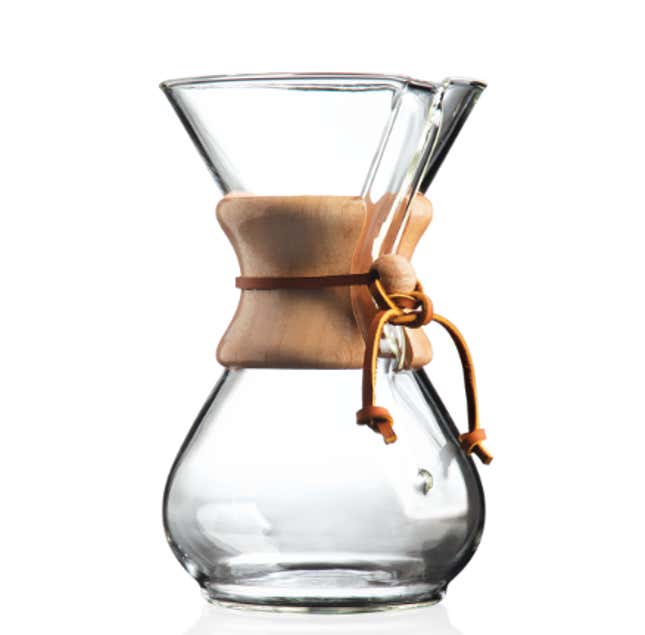 Why we like it: No coffee maker's arsenal of gear would be complete without American coffee's most significant piece of history. The pour-over device was invented in the 1930s by a chemist who was dissatisfied with the current methods of making coffee. Dr. Peter Schlumbohm looked at an Erlenmeyer flask and a glass funnel and decided these would be perfect, giving Chemex its iconic beaker shape. The chemist was an expert in filtration and innovated coffee filters to leave behind grounds, but let the perfect amount of coffee oils and caffeine pass through.
This product is a piece of history that ushered in American drip coffee. No other cultures used filters before Americans, such as Italian espresso, French press, or Turkish coffee. The Chemex has been featured in the MOMA for its design, and it looks as good on display as it does on your counter. Plus, the Chemex truly holds up as one of the best pour-over devices around. If the coffee lover in your life doesn't have one already, they'll love receiving one this holiday season.
Price: $49.50 Where to buy: Chemex
Breville Dose Control Pro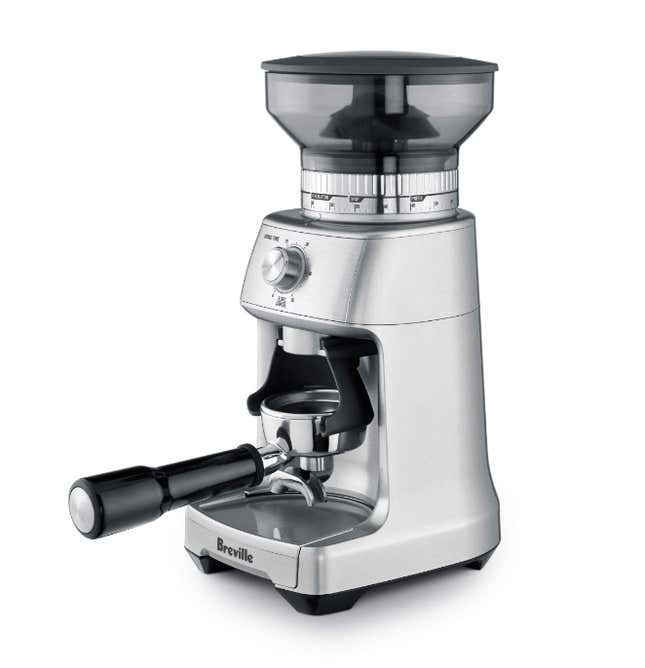 Why we like it: This is the best grinder you can get for this price. I personally have used this nearly every day for the last six years, and it works just as well today as it did when I bought it. The Dose Control Pro from Breville is uncomplicated and relatively affordable compared to grinders with similar features. This grinder has everything you need for whatever you're brewing, with an intuitive design that doesn't take away from the rest of your coffee process.
The stainless steel conical burrs on this grinder are exactly the same kind that a coffee shop uses. There are 60 settings from espresso to French press, allowing you to dial in your coffee routine with extreme detail. There's only one button on the whole machine, and its large hopper fits an entire 12-ounce coffee bag. I'm a huge fan of this grinder Breville has been making for years, and I can't recommend it enough.
The Price: $159.95 Where to buy: Breville
Nespresso Inissia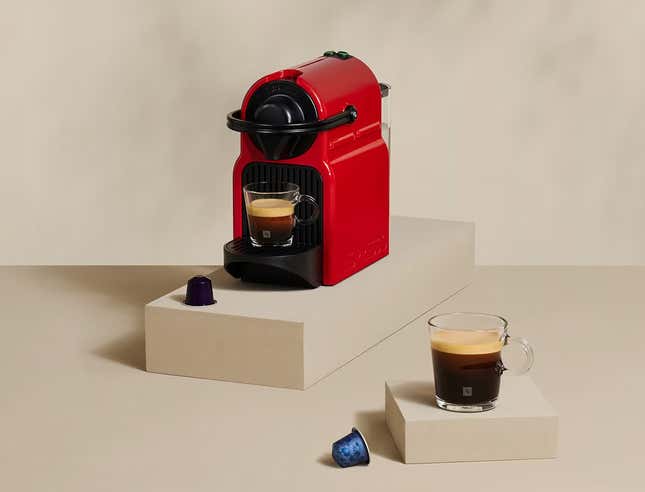 Why we like it: Yea, yea, yea. That's right. Nespresso is on the list.
Look, options for home espresso machines suck. They're expensive, have few options, and are too much of a hassle. The amount of work you need to put in to get a solid shot of espresso is simply not worth it. I'll be the first one to dunk on home espresso machines. If you need a top-tier shot of espresso, take it from me, and just go to your local coffee shop and buy an espresso for $3.
Or, if you want the next best thing, get the Nespresso Inissia. For the price, it's a solid option that delivers consistent espresso shots with a good head of crema, and it's so damn easy. Not to mention, this machine is so much cheaper than anything else on the market. This is by far my most controversial opinion here, but I will stan the Nespresso Inissia til the day I die. It's undeniably solid, and it won't break the bank or require hours of troubleshooting.
Price: $179 Where to buy: Amazon
The Kinto Travel Tumbler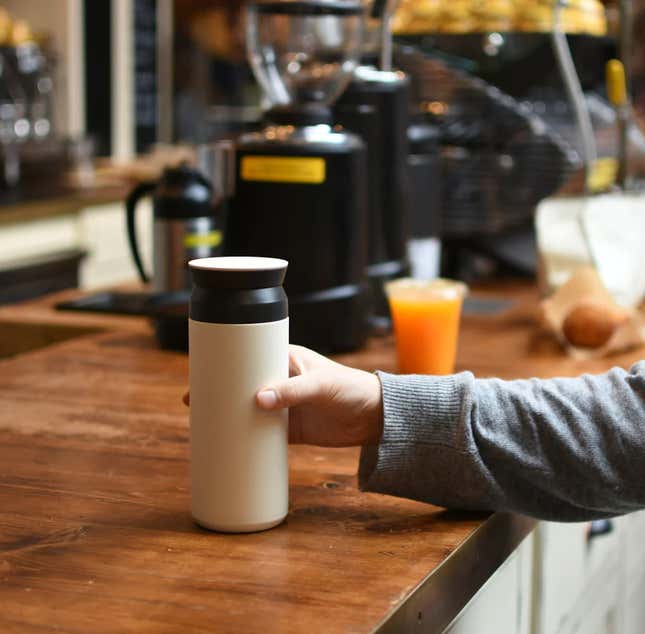 Why we like it: This Kinto travel mug looks simple, with its Japanese minimalist design, but it's actually quite advanced. For the price, I have not been able to find a travel mug with this many features, and I find Kinto tumblers pleasant and elegant to use.
The double-walled tumbler has a vacuum in between its inner and outer layers, ensuring heat and cold stay in, while your hand stays at room temperature. The tumbler is also leakproof, thanks to two rubber gaskets. However, open the top and there's a specially designed lid to ensure drinks come out slowly, and not all at once.
The Kinto is a tumbler anyone would be happy to drink out of or receive as a gift this holiday season. It's a modern classic and comes with a variety of colors in a 12oz and 17oz version. It's a no-brainer. Get this tumbler so they can enjoy their fancy coffee wherever they are.
Price: $37 Where to buy: Kinto
The Insane Espresso Maker Built For The Outdoors
The Gift: The Nomad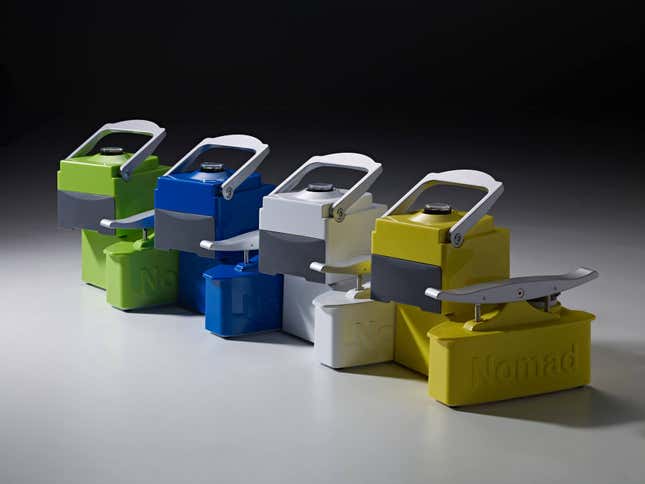 Why we like it: This is a shockingly simple, awesome-looking piece of gear that a coffee fiend would just get excited about. I know I just dunked on home espresso machines, but the Nomad is not for the home, it's for the outdoors. An alien piece of technology that somehow produces great shots of espresso. Simply pour in ground coffee and hot water, pump the seesaw levers a few times, and boom: a rich espresso shot, wherever you are.
There's no electricity needed. A handle on top allows you to carry the Nomad outside, and its founder swears these shots are better than a typical espresso machine. Its ingenious design makes you question why nothing like this existed before. The machine almost looks like a vintage video game console, but with an advanced pressure valve and efficient piston system that gives consistent results. The Nomad is on the pricier side, but it's a pretty impressive coffee toy. Not to mention, an amazing decoration for when you're not outdoors with it.
Price: $300 Where to buy: UniTerra